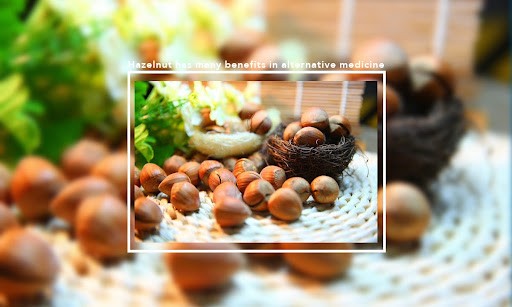 What is hazelnut oil?
Pure hazelnut oil is extracted from hazelnuts, which can be included in a skin care routine due to its importance as it contains a wide range of vitamins and minerals such as magnesium, potassium, folate, zinc, iron, manganese and vitamins A, C, E and K. Besides, hazelnut oil contains other elements such as thiamine, riboflavin, pyridoxine, pantothenic acid and niacin that are useful in regenerating skin cells and protecting them from fine wrinkles.
Hazelnut oil benefits:
1- Promote heart health:
Hazelnut oil contains many nutrients, such as: vitamin E, vitamin B, folic acid, protein, and healthy unsaturated fats, which play a role in reducing the risk of cardiovascular diseases.
2- Cancer protection:
Hazelnut oil contains vitamin E and manganese, which help reduce the risk of bladder cancer, and also contains antioxidants, thus contributing to the prevention and reduction of the risk of cancer.
3- Improve digestive health:
Hazelnut oil contains amino acids and many beneficial nutrients and vitamins that help maintain a healthy digestive system.
Hazelnut oil may also help soothe stomach ulcers, and it is a good source of dietary fiber, which can promote healthy digestion.
4- UV protection:
Hazelnut oil is sometimes used as a sunscreen, as it contains vitamin A and vitamin E, so many sunscreens contain hazelnut oil to protect against the sun's harmful rays.
5. Promote skin health and renew skin cells:
One of the most important benefits of hazelnut oil for women and men is to promote healthy skin.
Hazelnut oil is an excellent moisturizer for the skin due to the presence of linoleic acid that helps prevent water evaporation, supports the immune system in the skin and increases cell functions, contributes to elasticity and uniformity of skin color and cell renewal, helps remove acne-causing bacteria, and works to narrow Skin pores.
It also contains antioxidants that help reduce the appearance of wrinkles and fine lines. Hazelnut oil is used for almost all skin types, but it works especially well for dry and sensitive skin.
6- Promote collagen production:
Hazelnut oil helps boost collagen production, as collagen binds bones, organs, and tendons together, and helps boost collagen in the skin to protect it from wrinkles, scars and dark spots.
7- Hair protection:
Hazelnut oil helps maintain healthy hair growth, as it stimulates the growth of hair follicles and nourishes them, helps relieve dry scalp and protects it from the sun's rays, and also helps maintain hair's shine and softness.
Hazelnut oil uses:
* Cooking:
Hazelnut oil is used in cooking due to its good flavor and health value, as it is a major component of a healthy diet due to the vitamins, proteins and good fats present in it.
* Massage therapy:
Hazelnut oil is used for massage therapy, as it can quickly penetrate the skin and relieve psychological and physical stress, relax nerves, and nourish capillaries.
* Skin care products:
Hazelnut oil is used in many skin care products, such as: skin creams, soaps, and sunscreens, as it is resistant to damage and works on cell renewal because it contains vitamin E, fatty acids and antioxidants.
Hazelnut oil can also be used on the skin by placing a warm, wet cloth on the face or any other area of ​​the skin for 20 seconds, then placing half a spoonful of hazelnut oil on the area and massaging it for 30 seconds, and finally using a warm cloth to gently wipe the oil from the skin.
* Hair care products:
Hazelnut oil is used in many hair care products to maintain hair color for longer, and helps strengthen and moisturize hair and restore hair's nutrients.
Hazelnut oil tips and precautions:
Here are some important tips and caveats about hazelnut oil:
-Hazelnut oil is mostly safe to use, but it can become harmful when used in excess on the skin or hair, or when taken through diet or supplements.
-Hazelnut oil is used alone or can be combined with other oils, and can be applied in the morning or evening.
-It is recommended to store hazelnut oil in a cool place due to its high fat content.
-It is recommended to check that you are not allergic to the oil, and consult a doctor to ensure that there are no health risks.
-It is recommended to avoid hazelnut oil when using a blood-thinning medication, as the vitamin E in hazelnut oil may increase bleeding and slow the clotting process.
To view a article about Egyptian carob juice and its benefits, click on the following link:
https://cubii.co/en/carob-syrup-poor-natural-pharmacy-know-its-benefits/ 
To view the liquid filling machine from CUBII  that is used to fill many viscous liquids and to fill various products with different densities such as "sauce – honey – yogurt – processed cheese – tahini – gel – creams – oils – vinegar – juices – shampoo – liquid soap", click the following link:
Machine_filling_liquids_CUBII